Wire Working Tools
Beadsmith 1.8mm Cup Bur. Ideal and simple to use tool for smoothing and gently rounding the ends of rough and sharp wire. Great if you make your own e...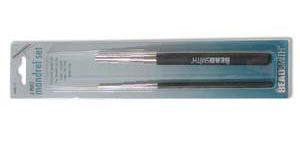 Beadsmith 2 piece mandrel set, with five diameters per tool : 1.5mm, 2mm, 3mm, 4mm and 5mm on the fine mandrel, and 6mm, 7mm, 8mm, 9mm and 10mm on the...
4 Piece Bead Reamer Set With Wooden Handle by BeadSmith. These diamond tipped reamers are intended for use on glass, ceramic and stone beads. Use for ...